News ADO
The reason why many people choose to ride a power bike
by Vy Nhat on Jun 08, 2023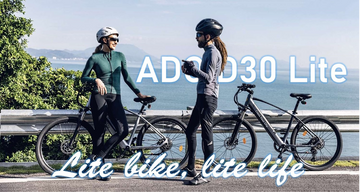 Power-assisted bicycles used to be the main means of transportation of Vietnamese people before the appearance of faster and more convenient means of transportation such as motorbikes, cars, airplanes, etc. But before the appearance and Replaced by other vehicles, the image of the bicycle rarely appears in daily life.
Although there are many alternative means of transport, bicycles are still the most used means of going to school by students. Along with the development and formation of many new trends and hobbies, including cycling. Therefore, in recent years, power-assisted bicycles have been used by young people more and with many new purposes. In order to meet the needs of bicycle lovers, new models of sports power bicycles and terrain power bicycles appear more, satisfying your preferences.
Many people also choose power cycling as a fitness sport. In addition to helping to exercise, cycling also helps you lose weight, use it as a means of going to school, to work, etc. Let's learn more about the above benefits.
1. Health effects
You probably know that regular exercise has many positive effects on health. Power-assisted cycling, too, contributes to a healthy heart, supports blood circulation, strengthens bones and joints, reduces the risk of diseases such as stroke, cancer, diabetes, obesity, etc.
To help your body stay healthy, you should cycle for about 30 minutes every day and should not pedal hard. Because when you are tired but still try to pedal will cause bad effects on health.
Power-assisted bicycle ADO D30C
Product reference:
2. Mental effects
Cycling can be considered a medicine for your spirit. The process of riding a power-assisted bicycle to admire the natural scenery, move slowly to relax, reduce stress.
Especially for those who are often under work pressure like office workers, cycling helps them relieve stress and pressure, bringing many mental benefits to them.
For middle-aged and elderly people, regular cycling brings good health and a relaxed mind.
3. Lose weight, get in shape
During the process of riding a power bike, the parts and muscles of the body work strongly to help burn accumulated fat and consume calories.
Regular cycling will greatly assist in the process of losing weight and getting in shape. Every day, you should cycle 30-60 minutes. And you should have a proper exercise and diet plan to lose weight to achieve the highest efficiency.
4. Practice to compete professionally
Many people after a period of practice, plus a love for power-assisted bicycles, they switch to the road of competition.
Power-assisted cycling is also a sport that has been put into professional competition at major awards, including the Olympics. Every year in our country, there are bicycle races for riders who are passionate about power-assisted bicycles.
But to be able to participate in the competition, you should have a special training regimen and prepare the right equipment for you.
Currently, power-assisted bicycles are used a lot in the following cases
1. Going to school
Due to the provisions of the law, students from secondary school and below are not allowed to use motorbikes, so power-assisted bicycles become their main means of transportation to go to school.
For high school students and students, there are many vehicles to choose from, but power-assisted bicycles still account for a large proportion of the means of transportation to school. In general, bicycles are still the main means of going to school for students at all levels in our country.
For children in primary school, parents can equip them with a children's bicycle to go to school. Students from middle school and up have grown up, so they can use sports or terrain bikes with small wheels, suitable for themselves.
2. Going to work
In order to save costs as well as contribute to environmental protection, many people choose power-assisted bicycles as a means of commuting to work as an alternative to other means of transport.
Going to work by power-assisted bicycle is also a way to exercise for those who do not have too much time for exercise.
The ADO E-Bike is a solid companion in urban living. We create products that provide a great driving experience on complex traffic conditions such as bumpy, rocky and uphill. All ADO products are designed to be environmentally friendly and comply with environmental guidelines.