News ADO
Solve 5 worries when riding a power bike to work
by Vy Nhat on Jun 07, 2023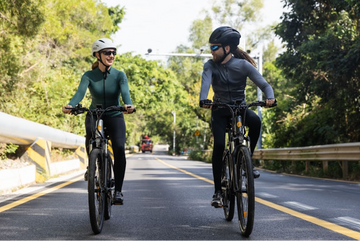 We all understand the great benefits of cycling to work. However, there are many distractions that can reduce inspiration and motivation to do this activity. In this article, ADO E-bike will give you obstacles and ways to overcome them to make cycling to work more comfortable and convenient.
1. Sweating, difficult when it rains
Should riding a power bike to work is a question many people ask when you are an office worker or you often have to wear shirts, short skirts or casual pants. This outfit not only makes it difficult to ride a bike, but when the weather is hot, sweat wets the clothes. The fact is that the first time cycling, the body will sweat more because the body is not used to exercise, but after the body gets used to it, the sweat will be less.

Photo: Worrying about sweating when cycling to work
Product reference:
This problem you can overcome by wearing comfortable sportswear when cycling and putting your work clothes in your backpack. When you come to work, you can shower or dry your sweat and change into work clothes. Another way is to wear bras and tights underneath that absorb sweat. When you come to the office, you change your clothes inside, take a shower and put on work clothes.
Rainy weather, riding a power-assisted bicycle to work easily makes your clothes and shoes dirty. However, in rainy weather, motorbikes cannot avoid dirty shots. ADO E-bike's advice is that you should not use a raincoat with bat wings, use a rain suit to cover the whole body. Make sure the front and rear tires have fenders to minimize dirt splashes. Currently, both power-assisted bicycles for women to work and bicycles for men are fully equipped with this accessory. In addition, you also need to make sure the backpack or accompanying belongings are carefully wrapped to avoid wetting the contents inside.
2. There is no dedicated bicycle lane, traffic jams, smoke inhalation a lot.
Traffic in big cities in Vietnam is quite crowded and cramped. However, any vehicle has to face this situation. Better yet, let's get used to it when this is a common problem and cannot be changed overnight.
When riding a power-assisted bicycle, you should go neatly to the right side of the road and obey the correct traffic lights to ensure the safety of yourself and those around you.
Photo: Polluted roads, dust
Air pollution is caused partly by smog from transportation vehicles. The habit of cycling to work is something to be encouraged because of its positive impact on the overall environment.
3. Easily stolen
Unlike motorcycles or cars with antique locks. Power-assisted bicycles are often equipped with quite rudimentary locks. Therefore, if you do not have a safe place to keep your car, then equip a solid lock to protect your property. Many bike sellers often give you a sturdy bike lock when you buy a bike. So it's not that much of a hindrance. More specifically, most companies have a security team to keep the car.
Photo: Easily stolen
4. Having to carry a heavy backpack causes shoulder pain
Currently, power-assisted bicycles for women to work and bicycles for men can be fitted with accessories such as baga to carry things. Therefore, you do not need to carry a backpack on your shoulder.
Photo: Carrying a heavy backpack causes shoulder pain
But if you don't like adding a baga, try to reduce the weight of the bag as low as possible. This helps train you to be neat, bringing only the things you really need. At the same time, protect your shoulders, avoid pain when wearing too heavy backpacks.
5. The company is too far from home, takes a lot of effort and time
Perhaps this is a major obstacle affecting the decision whether to ride a bicycle to work. Because cycling to work costs you energy and time. However, if you can do this, you will have more resilient health, more endurance, and more excitement for a new day.
Currently, power-assisted commuter bikes are equipped with high-quality shifters with different speeds. This is a great support to help you achieve high speed without consuming too much effort.
Above are some obstacles in riding a power bike to work and how to overcome them that ADO E-bike suggests for you. Hope this will be an effective solution for you.
The ADO E-Bike is a solid companion in urban living. We create products that provide a great driving experience on complex traffic conditions such as bumpy, rocky and uphill. All ADO products are designed to be environmentally friendly and comply with environmental guidelines.