News ADO
Power cycling helps overcome stress effectively
by Vy Nhat on May 23, 2023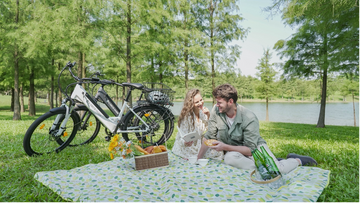 In today's modern life, stress has become a common problem and negatively affects our health and mental state. Therefore, finding effective stress relief methods has become more important than ever. One of the simple and fun ways to reduce stress that you can try right away is riding a power bike. In this article, we will explore the amazing benefits that power cycling brings to mental health and how it can help you overcome stress effectively.
See details of ADO A26S: https://www.adoebike.vn/products/a26s-xe
Release endorphins: When you cycle, your body will release endorphins - natural transmitters that reduce pain and bring a feeling of happiness. Endorphins not only make you feel better but also help reduce stress and anxiety. Using a power bike helps reduce stress and promote the secretion of endorphins, helping you feel more relaxed and happy.
Create a private space: When riding a power bike, you can enjoy private space and time for yourself. This allows you to separate yourself from the hustle and bustle of life and create a quiet environment to relax and focus on yourself. This is an opportunity to explore new places, enjoy nature and explore beautiful scenery, thereby helping to reduce stress and increase feelings of well-being.
Enhance concentration: Power-assisted cycling requires concentration and attention towards controlling and operating the vehicle. When you focus on adjusting your speed, managing the terrain, and maintaining balance on the bike, all your daily thoughts and worries will gradually become lighter. Concentrating on cycling helps you forget stressful thoughts and create a more comfortable psychological state.
Stimulates creativity: Cycling in a natural environment or new places can stimulate your creativity. Beautiful views, open spaces and fresh air will stimulate the brain and create the best conditions for creative thinking. You can take advantage of your time on the bike to imagine, plan and come up with new ideas, thereby reducing stress and increasing creativity.
Social connection: Power cycling can also be a fun social activity. You can join a cycling group, run sessions or even take part in local racing events. This helps you connect with the community, meet new friends, and share your passions with like-minded people. Having a positive social environment and good relationships reduces stress and brings joy in daily life.
See details of ADO A26S: https://www.adoebike.vn/products/a26s-xe
In short, power cycling is an effective method of relieving stress. From releasing endorphins, creating privacy and increasing focus, to stimulating creativity and social connection, power cycling has many benefits for our mental health. Try power cycling to experience the amazing performances it offers and discover how it effectively helps you overcome stress.
See more of ADO's latest models here: https://www.adoebike.vn/