News ADO
Diagnosing "diseases" from the sound emitted by your power bike
by Vy Nhat on Jun 07, 2023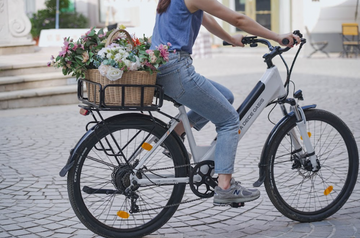 For those who are just starting to get acquainted with the hobby of riding a sports power bike, it is quite difficult to know what problems their bike is having through the sound they make. In order for the terrain power bike, sports power bike to always bring you interesting experiences during the journey, let's join ADO E-bike to diagnose the disease that the bike is experiencing through instant sounds. !
creaking sound:
This is a sign when the part of your sports power bike or mountain power bike is lacking in oil. Specifically, the chain, sprocket, ball bearing, chain gets a lot of dirt during a long time of use, but you forget to clean and add more oil. In addition, the cause can also be due to the foot support of the pedal, bolts ... lack of oil.
At this point, you need to clean your power-assisted bike and lubricate the chain and other parts of the bike.
Rubbing sound when cycling:
The reason is that your front disc shift is not properly adjusted, the chain part will collide with the disc when you pedal at high speed or slow down.
To correct this loss of sound, you can reduce the tension of the cable to the disc first. Or adjust the upper or lower speed limit screw.
Rattle sound:
The rattling sound is mostly caused by a loose water tank holder or a cable hitting the chassis of the vehicle. Although they are only small sounds, they also cause discomfort during your operation.
To improve this unnecessary sound you need to tighten the latch of the water tank holder or adjust the tension of the cable.
Creaking sound even when not cycling:
The reason you hear this sound even when you're not riding is that it's probably coming from the saddle, the saddle, or the brakes.
Product reference:
It is necessary to lubricate the part where the saddle mount or the slider connects to the saddle. In addition, the brake pads are also the cause of the creaking sound, ensure that the wheels are aligned and the pedals are tight.
Cracking sound:
The cause of this condition is that the right bearing is loose, you can hear a crackling sound when the left crankshaft passes the 12 o'clock position in the rhythm of the pedal.
Need to tighten right bearing. This method requires a high level of technical expertise. To be more sure, you can bring the car to a reputable place for repair.
The ADO E-Bike is a solid companion in urban living. We create products that provide a great driving experience on complex traffic conditions such as bumpy, rocky and uphill. All ADO products are designed to be environmentally friendly and comply with environmental guidelines.