News ADO
Parents should let their children ride bicycles and walk to school to increase the child's ability to concentrate
by Vy Nhat on Jun 08, 2023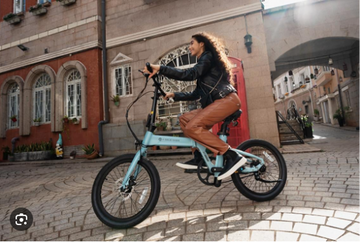 With today's busy study time, children seem to have less time to participate in physical activities, which leads to consequences such as obesity, mental retardation of children, etc. Those concerns, let ADO E-bike help parents better understand the benefits of cycling to school!
Studies in the world on the ability to concentrate when cycling and walking.
According to a 2012 Danish study, children who walk or cycle to school often perform better on tasks that require attention than children who go to school by car or public transport. plus other. A child's attention span can last up to 4 hours after cycling or walking to school.
In addition to the health benefits of cycling and walking, forming the habit of traveling by self-sufficient bicycle gives children the opportunity to learn about the geography of the area where they live along with knowledge about Nature is better.
Product reference:
In addition, another study from Australia using pedometers and accelerometers found that: "Children who are active and participate in physical activities learn more and have better health than children who are active and participate in physical activities. sedentary children"
Benefits of physical activities like cycling and walking
Through sports activities such as swimming, cycling, along with other outdoor activities is a way for children to effectively regenerate energy, as well as help to relax their mind after exercise. stress study.
When sitting still for more than 20 minutes, it will make the brain's performance worse, because the oxygen supply to the brain is limited, and movement is the way to stimulate neurons to work effectively. fruit.
In the process of cycling, the body will release endorphins that create more positive emotions, especially when cycling in the early morning will be a way to help children start a new day full of energy to dispel the feeling. sleepy every time I go to class.
Choosing the right power-assisted bicycle for children
Currently, there are many different types of bicycles, parents, let's choose with Fornix for children effective companions.
For ADO A20 Air power-assisted bicycles, it can move quickly on flat roads as well as shock absorbers to help the bike glide smoothly on rough and rocky roads. ADO A20 Air is equipped with a 21-speed converter with 3 front forks and 7 rear cassettes to help the driver have a lot of experience in speed & pedaling force.
Power bike ADO A20 Air
In addition, each speed will be suitable for each different terrain and suitable for the condition when cycling as well as suitable for different cycling purposes.
ADO D30C is a line of power-assisted terrain bicycles suitable for those who like to experience and conquer on potholes, bad roads, bumpy, rough, steep hills .... ADO D30C owns alloy frame . High-grade aluminum with 24-speed SHIMANO variable speed helps you experience different levels of speed when surfing on the road.
Power-assisted bicycle ADO D30C
For children who love strong conquest, parents can choose for their children the sports power-assisted bicycle product line, with a personality design with a highlight of the buffalo horn handlebar. ADO D30C is designed with high-quality aluminum alloy frame with 14-speed variable speed, 700c wheel ring.
The ADO E-Bike is a solid companion in urban living. We create products that provide a great driving experience on complex traffic conditions such as bumpy, rocky and uphill. All ADO products are designed to be environmentally friendly and comply with environmental guidelines.