News ADO
How to prevent theft for power bicycles
by Vy Nhat on Jun 07, 2023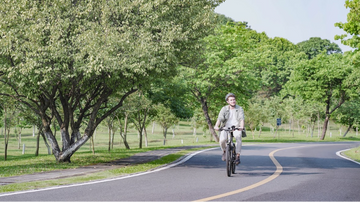 In the face of today's complicated social situation, how to prevent theft of your power-assisted bicycle becomes more necessary than ever. In this article, ADO E-bike will tell you some effective ways to prevent bike theft. See now!
1. Use anti-theft locks
Buckle
Chain lock is a very popular and widely used anti-theft lock for bicycles, even used on motorcycles and electric vehicles. Because the advantage of this type of lock is low cost and easy to use.
U-lock
U-locks usually cost more than other types of locks. But in return, this anti-theft bike lock has a high level of security because it is made of steel and has a complex structure.
Product reference:
Fixed lock
This type of lock is usually equipped with bicycle manufacturers on the bike. Use a simple key. However, due to its simple structure, the ability to keep your car safe is not high. To be more sure, you should equip the
Steel Cable Lock
This is a solid lock, the buckle is made of solid steel, so it is durable. The steel cable lock has a long length of steel wire, making it easy to lock the car into the roadside pillars and poles.
Lock with automatic warning
This is the smart lock of the modern technology era. When you need your bike protected you just need to turn on the button, when your bike moves the lock will sound an alarm.
In addition, choosing a good bicycle anti-theft lock is not enough, you also need to choose a safe place to lock the bike. Do not choose columns, pillars or signs that are easily moved.
You should also not choose posts with tape attached. This may be the glue that the bad guy intentionally created in advance to hide the cuts and steal your car quickly.
2. Mark the symbol to identify your power-assisted bicycle
Marking a special mark to easily identify your bike is essential. Although, there are many different brands and models of bicycles on the market today. However, this is an effective way to avoid confusion. 
3. Store your car in a safe place
You have done the above 2 ways but still can't protect your beloved bike. In addition to using bicycle anti-theft locks and marking your own identification, you need to store your bike in a safe place. This is the most effective and secure way. You should choose good security and guarded areas.
4. Deflate the tires when not in use for a long time
Your bike will not be used for a long time before storing or deflated the tires. This action helps protect the tires from blowouts. It also helps to reduce the chances of the bike being stolen. Because when the bicycle is deflated, the movement will be hindered and time consuming.
Above are some experiences to help you effectively prevent bicycle theft. ADO E-bike wishes you success in applying!
The ADO E-Bike is a solid companion in urban living. We create products that provide a great driving experience on complex traffic conditions such as bumpy, rocky and uphill. All ADO products are designed to be environmentally friendly and comply with environmental guidelines.