News ADO
How to choose a bike for kids
by Vy Nhat on Jun 06, 2023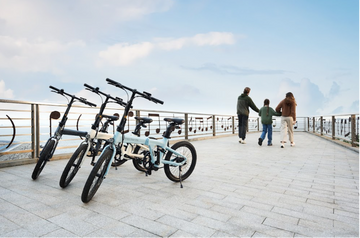 For young children, it is very important to learn and discover new things about the world around them, contributing significantly to the formation of children's personality and perception in the future. However, most children today often have the habit of "hugging" phones, tablets, ... rather than outdoor games, and separating children from technology devices has caused many problems. Parents have a headache. According to research by scientists of the Federal Republic of Germany, cycling will help children develop comprehensively both physically and mentally, increase their ability to learn, confidently solve situations, etc. Therefore, parents should encourage children to play with bicycles more so that they have no time to focus on technology devices. And how do parents choose a suitable power-assisted bicycle for their child?
ADO E-bike will suggest some useful information to help you easily choose a bike for your baby.
Vehicle height and dimensions:
At each age, children will have different development, this is reflected in the height of each child. Therefore, a suitable bike will make it easy for your baby to control, providing your baby's safety and peace of mind for you.
- You need to choose a car with a seat height suitable for your baby's height, ensuring that when sitting in the car, the baby feels comfortable and easily puts his feet on the ground.
- Should choose a bicycle for the child with a handlebar that is within reach, not with hands or overlapping hands.
- Pedals must have a comfortable design, not too slippery and you should not choose a bike with a lock on the pedal because it will be dangerous to your baby.
Weight of bike:
In the process of riding, there will be times when the baby needs to take the bike uphill or down the house... Therefore, with a bike that is too heavy, the baby will not be able to perform the above actions. Therefore, parents should choose bicycles with light weight for their children.
Vehicle specifications:
Depending on the age of the child, you should choose the appropriate bike model:
- With brakes : You need to choose bicycle models that are equipped with a firm brake system and make sure your baby can easily use:
+ For children from 2 years old to 6 years old : you can choose V-brake for your baby to use easily.
+ For older children : you can choose bicycles with disc brakes or rim brakes.
- With wheels : You should choose bicycles with large rubber tires and limit the choice of solid tires because this will increase the weight of the bike, making it difficult for the baby to control.
- With vehicle transmission :
+ For children under 5 years old: riding a bicycle will face many surprises. Therefore, for children who are just starting to learn to ride a bike, you should choose bicycle models with 1 fork and 1 cassette for better control.
+ For children over 6 years old: You can choose for them bicycle models with more forks and cassettes, helping them explore and easily move on many different terrains.
Design colors suitable for children:
According to the common psychology of young children, cycling is not only a practice but also an adventure, so the bike is like a companion. Therefore, when buying a bicycle, you should take your baby with you so that your baby can choose the right color and style to suit your baby's interests, thereby helping your baby get excited about riding a bike and keeping his beloved friend. without having to wait for my parents to remind me.
Product reference:
An important note is that you should train your children to wear a helmet every time they ride a bike, parents!
The ADO E-Bike is a solid companion in urban living. We create products that provide a great driving experience on complex traffic conditions such as bumpy, rocky and uphill. All ADO products are designed to be environmentally friendly and comply with environmental guidelines.