News ADO
What's special about ADO Air - just launched electric power bike?
by Vy Nhat on Jun 08, 2023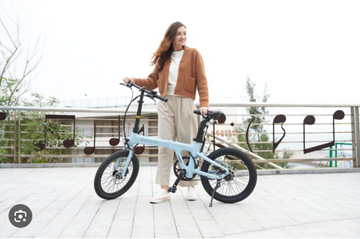 A Dece Oasis (ADO) brand has made its first step into the Southeast Asian market when it has just launched the latest line of ultra-lightweight electric power-assisted bicycles, the ADO Air.
Nowadays, the trend of cycling to work combined with public transport is becoming popular in Southeast Asian countries. Thanks to the convenience, the ADO Air super light and compact electric power-assisted bicycle is easy to carry on public transport such as trains and buses.
With its compact design, ADO Air becomes the ideal companion with you across the roads thanks to outstanding advantages such as:
Ultra-light, collapsible bike

: This portable E-bike is made of aluminum body and weighs only 16kg. When folding ADO's E-bike, you can easily store it in the trunk of the car, saving space, convenient for inner city or travel.

IPX7 IPS screen

: The ADO Air is one of the first E-bikes with an IPS display. This makes it easy for the driver to read the information at any angle, especially when it's raining or under strong sunlight.

Strong and modern design

: The ADO Air bike model has a modern and fresh design with 3 colors of ivory white, pastel blue and gray for both men and women, suitable for many ages. Quality and color fastness come standard with four layers, helping to keep the car shiny, minimizing color fading, ensuring the car always keeps its original fashionable appearance.

Power assist technology is optimally designed

with Southeast Asian traffic and user habits in mind. The perfect combination of carbon belt movement, torque sensor and ultra-light aluminum body of the A20 Air makes urban driving more comfortable and convenient.
Details of 2 versions ADO A20 Lite and ADO A20 Air:
This is a high-end version with the same appearance and features as its brother, ADO A20 Air. The A20 Lite is equipped with a mechanical brake and a dual disc system on the front and rear wheels to keep the car balanced even in case of urgent braking.
The car uses a carbon-belt transmission that exudes a modern, dynamic and strong look. In addition, A20 Lite is equipped with mechanical brakes and dual discs front and rear, allowing the car to accelerate smoothly and move safely and comfortably.
The outstanding design and features of the A20 Lite are suitable for the vast majority of users, not only newbies who want to learn and use electric power assist bicycles, but also satisfy the needs of long-time bike lovers. year.
Product reference:
Power-assisted bicycle ADO A26S
The ADO A20 Air electric power-assisted bicycle was launched in early 2023 with many outstanding features and outstanding improvements like the global version.
The body of the A20 Air is made of aluminum alloy with a net weight of 16kg, it only takes 10 seconds to fold with 3 extremely simple steps. Three-segment folding design for easy storage in the trunk of a car, elevator. The vehicle uses a 350W brushless motor that allows users to run at a maximum speed of 30km/h smoothly and quietly. At the same time the driver does not have to worry about rust, grease and can go up to 100,000km without maintenance.
The A20 Air has a premium Samsung-branded Lithium battery that can be charged directly or separately, perfectly hidden in the seat tube. Fully charged battery can go up to 100km.

The A20 Air is equipped with an oil brake along with a dual front and rear brake system, which helps the car stop quickly even in unexpected situations without causing an imbalance of the vehicle.

In particular, ADO Air owns a torque sensor system. The torque sensor allows the driver to accurately sense the pedal force in real time to deliver the required power, such as when starting uphill, making it easy to deal with road conditions different.
Both the A20 Air and A20 Lite versions are equipped with a special navigation feature. You just need to connect to ADO smart APP via Bluetooth.
With its 2 latest versions of electric power-assisted bicycles, ADO has brought a superior choice for consumers, contributing to environmental protection with green energy, spreading the "bicycle culture" widely. and improve the health of users.