News ADO
Power-assisted bicycles have changed the way we experience life and explore the world around us
by Vy Nhat on May 30, 2023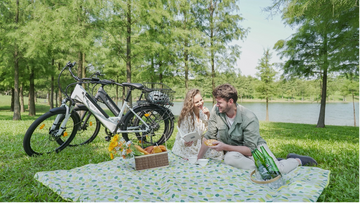 Power-assisted bicycles have changed the way we experience life and explore the world around us. Becoming a popular means of transportation, power-assisted bicycles not only bring health benefits but also help us explore new places with ease. Among the existing power-assisted bicycle models, ADO's A26s stands out with many superior features.
See more here: https://www.adoebike.vn/products/a26s-xe

ADO A26s is a high-class and high-class power assisted bicycle model. With beautiful design and good quality, it offers a superior cycling experience. The A26s is equipped with a powerful engine and an advanced transmission system, helping you overcome all roads and terrains with ease.

One of the notable points of the A26s is the ultra-light aluminum alloy frame. The sturdy and balanced chassis not only provides stability but also creates comfort when driving. You will feel the power and flexibility when driving the A26s on diverse roads.

The A26s's servo motor is one of the outstanding factors. With its powerful power, it provides effective help when you need more power to traverse steep hills or go long distances. The advanced powertrain makes it easy to adjust power levels and speeds, providing flexibility and tailoring to individual needs.


Besides, the A26s is also equipped with safety features such as disc brakes, helping you to stop quickly and safely in all situations. Front and rear suspension along with high-quality wheels provide stability and comfort for the ride.

In short, ADO's A26s is a remarkable power-assisted bicycle model. With its beautiful design, powerful engine and safety features, it is a great choice for those who are passionate about cycling and want to experience great adventures on four wheels. Choose A26s and explore the world with more fun and convenience than ever before!
See more ADO's latest models here: https://www.adoebike.vn/