News ADO
Hai Phong power bike
by Vy Nhat on May 30, 2023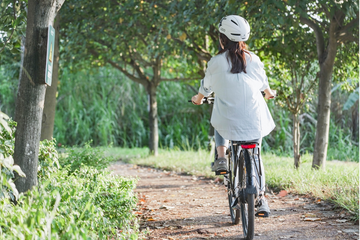 Hai Phong - a beautiful coastal city with a diverse culture and rapid development. Over the years, traveling in the city has become quite complicated and time consuming due to traffic jams. However, an effective solution that has appeared and is making a big splash in the community is power-assisted bicycles. On the basis of Hai Phong's good traffic infrastructure, power-assisted bicycles bring convenience and flexible mobility to users. On the way to discover power-assisted bicycles in Hai Phong, we will learn about the benefits that power-assisted bicycles bring in the daily life of Hai Phong people.
Power-assisted bicycles have become a popular means of transportation, bringing outstanding benefits to users. With the development of technology, the power-assisted bicycle market is increasingly diverse and challenging. In this article, we will explore three notable power-assisted bicycle models: A20 Lite, Dece 300c and A26s from the ADO brand.
A20 Lite: The perfect combination of performance and comfort A20 Lite is a power-assisted bike with a simple yet modern design. With its ultra-light aluminum alloy frame, it offers stability and flexibility in every ride. The powerful power steering makes it easy to overcome steep hills and any challenges on the road. Moreover, the A20 Lite is equipped with an efficient disc brake system and a high-capacity battery, ensuring you long trips without worrying about running out of power. See more at: https://www.adoebike.vn/products/a20-lite
Dece 300c: A combination of sport and versatility The Dece 300c is a versatile power-assisted bike that is suitable for both city and sport rides. With its lightweight aluminum alloy frame, it offers comfort and flexibility on the go. The smart power steering helps you save energy and adjust the power level easily. The Dece 300c is also equipped with an advanced powertrain and disc brakes, ensuring safety and good performance on all types of terrain. See more at: https://www.adoebike.vn/products/dece-300c
A26s: Strength and professionalism A26s is a high-class and high-class power-assisted bike. With its ultra-lightweight aluminum alloy frame, it offers stability and balance in every ride. The powerful power steering engine of the A26s helps you overcome all difficulties on the road. High-quality hydraullic disc brakes and actuators ensure optimum safety and performance. In addition, A26s is also equipped with convenient features such as LCD information display, front and rear shock absorbers, and USB charging port. See more at: https://www.adoebike.vn/products/a26s-xe
With the variety and quality of the A20 Lite, Dece 300c and A26s power-assisted bike models, you can choose a bike to suit your individual needs and preferences. Experience the freedom and excitement of riding these amazing power bikes from ADO.
Hai Phong - a vibrant coastal city with natural beauty and economic development. Using a power-assisted bicycle is not only a smart and time-saving means of transportation, but also helps you enjoy the beautiful scenery and relax after stressful working hours. Let's experience a clean, green and refreshing life together on a power-assisted bicycle in the unique space of Hai Phong. Accompany new friends, enjoy beautiful streets and discover interesting destinations. Be prepared for a journey full of experiences and memorable memories in Hai Phong city!
See more ADO's latest models here: https://www.adoebike.vn/