News ADO
Power-assisted bicycles for the elderly
by Vy Nhat on Jun 02, 2023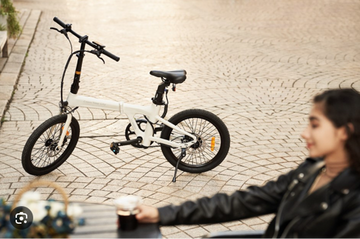 Cycling is considered by many experts and doctors to be a sport that makes old age happier and improves health, especially cardiovascular and joint diseases. Let's follow the article below of ADO E-bike to learn the benefits as well as some guidelines for choosing a power-assisted bicycle model for the elderly!
Benefits of power-assisted cycling for the elderly
Improves cardiovascular health and stable circulatory system.
● Helps with weight loss in elderly people with a history of diabetes and obesity.
● Helps to improve diseases caused by bone and joint damage.
● Create many relationships, help the spirit to always be comfortable and happy.
See more:
Notes when choosing a power-assisted bicycle for the elderly
Vehicle style: choose a car with an upright sitting position, wide tires for smoothness, flexible multi-speed discs and cassettes, shock-absorbing forks to minimize all shocks, avoiding numbness of the steering wheel when moving transfer.
● Saddle: consider a car with a saddle that helps reduce pressure on the pelvis, is covered with high-quality leather to make users feel smooth and comfortable when using and choose a car with adjustable saddle when you want to raise or lower arbitrarily.
● Aesthetics and safety: choose a vehicle that is lightweight, has a sturdy frame, and is suitable for older people in colors such as black, green, blue or purple.
● Cost: you should consider reputable addresses to buy a car because that will ensure that your car is both beautiful in terms of quality, configuration and price of the car.
Some models of power-assisted bicycles for the elderly ADO E-bike
Power bike ADO A20 Lite
The car has a chassis design made from high-quality Al6061 aluminum alloy, 21-speed Shimano handlebars, 24/34/42T disc drums and other small details all manufactured from top famous brands in the world. . Not only guaranteed for the quality of the product as well as the safety of use, the ADO A20 Lite power scooter also has an extremely sporty, sophisticated and decent design that is very suitable for the elderly.
Power bike ADO A20 Air
ADO A20 Air will be the perfect choice for stylish elders who like to stand out and have their own personality. Not only has a solid and novel design, the ADO A20 Air also meets European quality standards, conquers many difficult and dangerous terrains, ensures absolute safety, promises to bring many new and exciting user experience.
Power-assisted bicycle ADO A26S VEHICLE
This is a vehicle suitable for climbing because of its sturdy design, with shock absorbers, large wheel spikes, thick wheels, suitable for all terrains. What makes the quality of the car is the chassis produced by many of the world's leading brands. The ADO A26S XE power bike will definitely be hunted by sports car lovers to add to the collection of the hottest sports cars.
Conclude
Those are some of the best-selling adult sports bikes on the market today. Hope the above information about sports bicycles for the elderly is really useful to you.
The ADO E-Bike is a solid companion in urban living. We create products that provide a great driving experience on complex traffic conditions such as bumpy, rocky and uphill. All ADO products are designed to be environmentally friendly and comply with environmental guidelines.