News ADO
The trend of cycling ADO power-assisted bicycles flourished after the Covid season
by Vy Nhat on May 22, 2023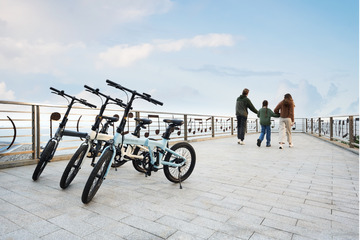 The trend of cycling ADO power-assisted bicycles flourished after the Covid season
The Covid-19 season has changed our lives in incredible ways. However, during the arduous months of waiting and constant changes, an exciting new trend has arisen - riding ADO powered bicycles. This is a new lifestyle, creating a completely new approach to moving and exploring the world around us. Let's explore the ADO power-assisted bicycle trend that flourished after the Covid season!
NEW GENERATION TRUCK BIKE
ADO Air 20 Super light and super compact, suitable for all your travel and entertainment needs: https://www.adoebike.vn/products/ado-air-20
After the Covid-19 season ended, people felt a desire for freedom and a desire to return to physical activity. Cycling ADO power bikes has become an ideal choice for those who want to combine movement and exploring their surroundings in a safe and enjoyable way. With advanced technology and reliable quality, ADO power-assisted bicycles have quickly attracted the attention and trust of many people.
One of the main benefits of riding an ADO power bike is the ability to tackle difficult terrain with ease. From hilly roads to busy urban streets, ADO power bikes help you take on any challenge with little to no effort. This opens the door to discovering new places, from unspoiled streets to popular tourist destinations.
See more at: https://www.adoebike.vn/
The ADO power bike movement also creates a passionate and supportive community. You can join local cycling groups or join cycling events and competitions to connect with like-minded people. Together, we can share experiences, create memorable memories and discover new things in life.
Moreover, cycling ADO power-assisted bicycles also contributes to environmental protection. By replacing the use of traditional transport with power-assisted bicycles, we reduce emissions and unnecessary energy consumption. This means reducing air pollution, conserving resources and creating a greener living environment for our future.
In addition, riding an ADO power bike also brings many health benefits. Cycling not only improves cardiovascular health and strengthens muscles, but it also helps reduce stress and anxiety, lifts mood, and enhances focus. This is a fun and effective way to maintain health and fitness in everyday life.
Join the ADO power bike movement after the Covid-19 season and discover a new, exciting and greener way of life. Get in the car, feel the feeling of freedom and explore the wonderful things the world around us has to offer. Experience the joy and benefits that ADO power cycling brings to your life.
See more at: https://www.adoebike.vn/