News ADO
Temperature Tolerance of the ADO E-Bike
by ADO Ebike on Jan 07, 2023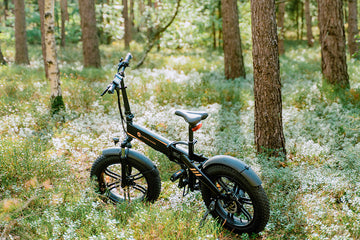 Whether it's winter or summer, many riders worry about how to take care of their electric power assist bicycles to ensure performance, stability and driving safety. These concerns won't exist if you buy a bike that has undergone rigorous temperature testing.
Thus, ADO addresses common consumer concerns based on international testing standards. ADO Laboratories develop more stringent high and low temperature testing standards that match the characteristics of electric power assist bicycles. Watch the video to understand more about the testing process:
Safety is first and prevention is better than cure. At ADO's environmental simulation lab, we test the heat resistance of our products by simulating real and extreme temperature conditions to ensure product stability and safety. Besides testing the absolute temperature, we also look at the frequency and rate of temperature change for the durability of the electronic components of the ADO electric power assist bike.
ADO QTL laboratory works according to international standards
The first test is the thermal shock test:
For the thermal shock test, we use a 2-chamber air system. The maximum temperature of the hot chamber is set at 80°C and the cold chamber is -40°C. The test product is moved back and forth between the hot and cold chambers several times. Through this testing, weaknesses are identified, improved and adjusted. From there, we can ensure that ADO products perform well even under extreme temperature conditions.
80°C . high temperature storage setting
Low temperature storage setting -40°C
After 48 hours of storage at -40°C
Second is the high-low temperature storage test
We create test chambers with constant temperatures of -40°C and 70°C respectively. Bicycles are stored in test chambers for 48h. This forms the basis for the safe storage of ADO electric power assisted bicycles in all climates of the world.
The third is functional testing under extreme temperature conditions:
We simulated temperatures of -15°C and 45°C along with other outdoor conditions such as shocks and loads. The ADO electric power assisted bicycle is tested continuously for 12 hours in the test room, to confirm that the ADO electric power assisted bicycle can operate safely in all conditions.
Standards and procedures in testing include:
GB/T 2423.1—2008
GB/T 2423.2—2008
GB/T 2423.22—2002
GJB150.3a-2009
GJB150.4a-2009
GJB 150.9A-2009
GJB360A-1996
ADO ensures that all electric power bikes from ADO pass 100% of all testing requirements, becoming the foundation for your short journeys.