News ADO
ADO: the future of promoting the development of Vietnam and Southeast Asia markets
by ADO Ebike on Jan 11, 2023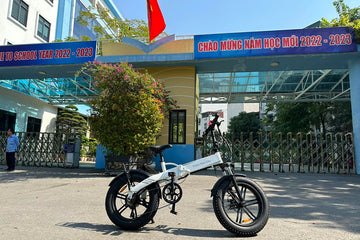 On December 1, 2022 in Hanoi, A Dece Oasis, commonly known as ADO, the world's leading electric bicycle company, announced its entry into the Southeast Asian market and the future is headed to the market. Vietnam.
As a brand from Europe, with the goal of being present in 1,001 cities, since May 2021 ADO has penetrated through many markets such as Berlin, London, Bulgaria, Milan, Taipei, Penang of Malaysia and is now present. in Viet Nam.
Mr. Sen, CEO of ADO said: "Up to now, ADO has provided electric bicycles for more than 20,000 users, ensuring the travel process of more than 10,000 families. We will continue continue this work and goal, to become the most loyal partner of customers in daily life. Therefore, ADO Ebike has been present in more than 200 cities".
With the strength of electric bicycles with high sales in difficult markets like Germany, ADO E-bike offers lower prices but still ensures the same good quality in Vietnam market.
Talking about ADO electric bicycles, Mr. Sen said: "We specialize in providing products that consumers really need". The research team always adheres to the goal of enriching the product line based on user needs and constantly optimizes existing products according to user feedback in the market. To improve technology, the company built a 3,300 square meter facility and laboratory for electric bicycles.
Currently, ADO has the first SGS laboratory in the industry, ADO Laboratory has more than 60 types of bicycle test items, mainly related to safety tests.
In addition, ADO has obtained SGS, DEKRA certification, responsible for safety as well as travel process, is the most loyal and trusted partner of users.
In addition to the competition in quality and price, ADO also provides door-to-door delivery service within 2-7 days if customers order a car at the direct store, localization service and after-sales service support. forever. ADO is committed to replacing new products free of charge to users when maintenance is not possible due to quality problems throughout the product life cycle.
Currently, the best-selling products of ADO electric bicycles are folding bicycle models with the most popular product being ADO A20. In addition, ADO provides a more beautiful version of the A20XE after receiving comments from users.
Some of the main features of the A20XE can be mentioned as:

350W . Geared Hub Motor
Rated Capacity 36V 10.4Ah
Dual shock absorption
Maximum range 80KM