News ADO
30 amazing benefits of power-assisted cycling - Part 3
by Vy Nhat on May 23, 2023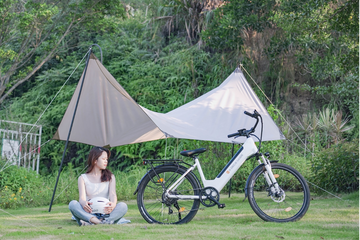 30 amazing benefits of power-assisted cycling - Part 3
Welcome to the final part of the "30 Amazing Benefits of Power Assisted Cycling" article series. Before continuing, let's review the benefits we explored in the previous two sections. Now, let's add 10 more benefits to this list.
See product details here: https://www.adoebike.vn/products/a26s-xe
Increased satisfaction: Power cycling stimulates the secretion of serotonin and endorphins in the body, contributing to a feeling of satisfaction and joy after each workout session.
Reduces the risk of depression: Physical activity such as power cycling helps reduce the risk of depression and improves overall mood.
Boost your confidence: As you ride your power bike and conquer challenges on the road, you'll increase your confidence and self-confidence in your abilities.
Socializing: Power cycling is a popular activity and you can join cycling groups or events to socialize and connect with people with similar interests.
Explore nature: Using a power-assisted bicycle allows you to explore nature, discover beautiful scenes and enjoy natural spaces in a free and enjoyable way.
Save money: Power-assisted cycling is an economical and environmentally friendly means of transportation, helping you save on daily commuting costs.
Reduce environmental pollution: Using power-assisted bicycles reduces pollution emissions into the environment, contributing to protecting our planet.
Create a style highlight: There are many models of power assisted bicycles in a variety of designs and colors, allowing you to create your own style highlight in your lifestyle and travel.
Challenge yourself: Power-assisted cycling doesn't just stop at helping you move, but also requires concentration and dexterity to overcome terrain and challenges.
Family bonding: Power cycling is a suitable activity for the whole family, helping to build and bond family relationships through sharing joys and challenges together.
See details of A20 AIR here: https://www.adoebike.vn/products/ado-air-20
Those are 30 great benefits that riding a power-assisted bicycle brings you. Hopefully this article has provided useful and interesting information about the benefits of using a power-assisted bicycle. Start your power cycling journey today and enjoy these benefits!
See more new ADO products at: https://www.adoebike.vn/